---
2021/09/28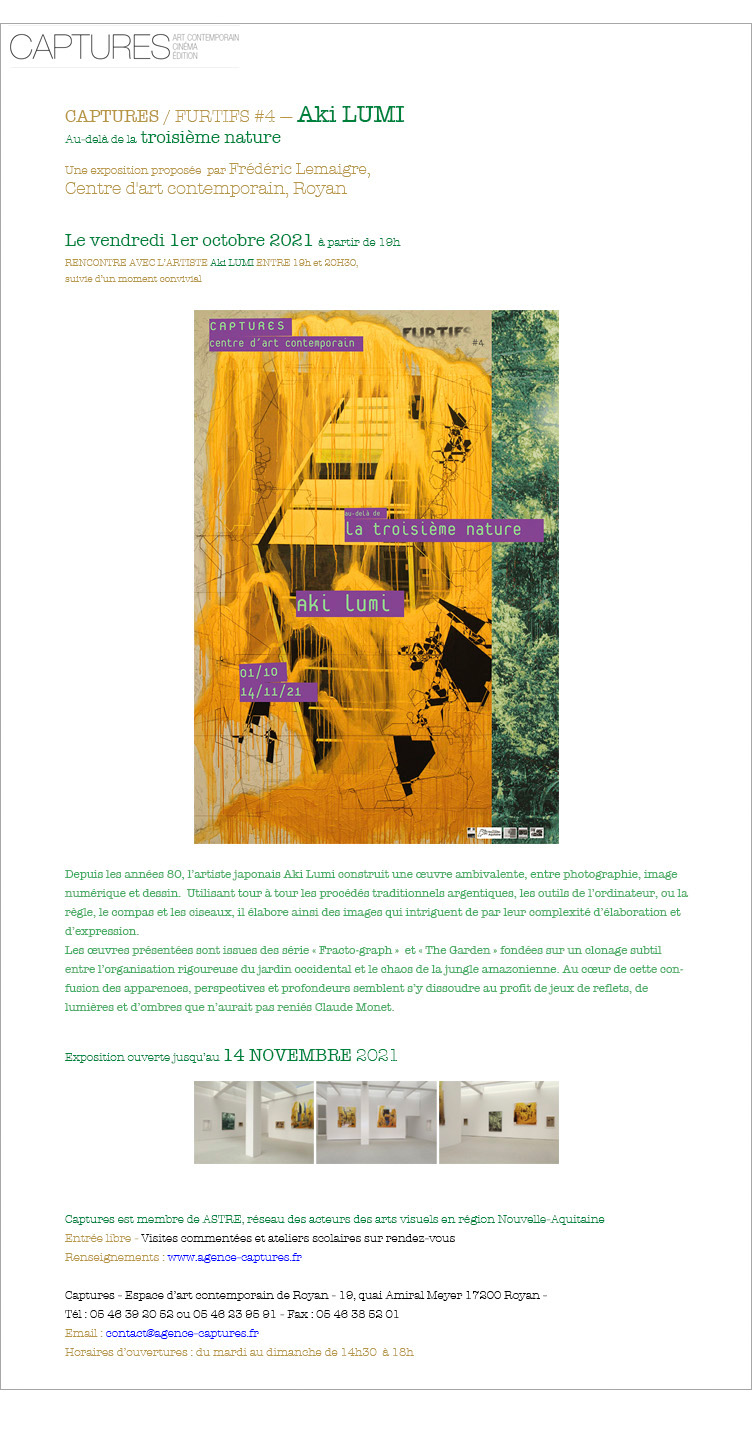 CAPTURES / FURTIFS #4 — Aki LUMI
Au-delà de la troisième nature
Une exposition proposée  par Frédéric Lemaigre, Centre d'art contemporain, Royan
Le vendredi 1er octobre 2021 à partir de 19h
RENCONTRE AVEC L'ARTISTE Aki LUMI ENTRE 19h et 20H30, 
suivie d'un moment convivial
Depuis les années 80, l'artiste japonais Aki Lumi construit une œuvre ambivalente, entre photographie, image numérique et dessin.  Utilisant tour à tour les procédés traditionnels argentiques, les outils de l'ordinateur, ou la règle, le compas et les ciseaux, il élabore ainsi des images qui intriguent de par leur complexité d'élaboration et d'expression. 
Les œuvres présentées sont issues des série « Fracto-graph » et « The Garden » fondées sur un clonage subtil entre l'organisation rigoureuse du jardin occidental et le chaos de la jungle amazonienne. Au cœur de cette confusion des apparences, perspectives et profondeurs semblent s'y dissoudre au profit de jeux de reflets, de lumières et d'ombres que n'aurait pas reniés Claude Monet.
Exposition ouverte jusqu'au 14 NOVEMBRE 2021
Captures est membre de ASTRE, réseau des acteurs des arts visuels en région Nouvelle-Aquitaine
Entrée libre – Visites commentées et ateliers scolaires sur rendez-vous – Renseignements : www.agence-captures.fr
Captures – Espace d'art contemporain de Royan – 19, quai Amiral Meyer 17200 Royan – 
Tél : 05 46 39 20 52 ou 05 46 23 95 91 – Fax : 05 46 38 52 01 – Email : contact@agence-captures.fr
Horaires d'ouvertures : du mardi au dimanche de 14h30  à 18h
•
Aki Lumi : https://akilumi.fr/
•
•
•
•
•
---
2021/07/30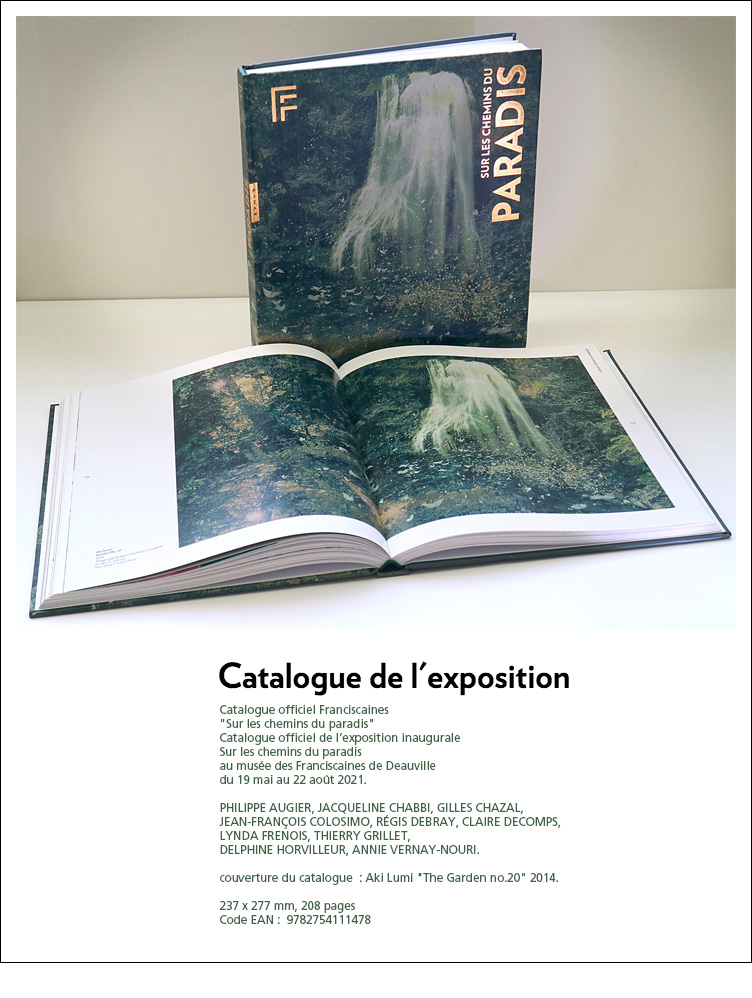 LES FRANCISCAINES  – DEAUVILLE, FRANCE
Sur les chemins du paradis – Exposition inaugurale
On the roads to paradise – Inaugural Exhibition
du 19 mai au 22 août 2021
—————————————————————————-
EXHIBITION
On the roads to paradise
Inaugural Exhibition, Courtyard of Temporary Exhibitions, Les Franciscaines
On the Roads to Paradise shows the singularity of an imaginary that is not identical from epoch to epoch nor from religion to religion and that intrinsically depends on the societies in which paradise is represented. Thanks to a chrono-thematic tour, the exhibition presents about a hundred works of different techniques, dates and origins: miniatures, manuscripts, paintings, ceramics, ritual objects, carpets, graphic arts, antiques, photographs and videos.
The exhibition provides an opportunity to discover historical and contemporary works and documents thanks to exceptional loans from French and foreign national museums, private foundations and galleries with a worldwide reputation.
Eng
https://lesfranciscaines.fr/en/events/roads-paradise
Fr
https://lesfranciscaines.fr/fr/programmation/sur-les-chemins-du-paradis
Video
---
The inaugural exhibition of les Franciscaines
With a cultural policy that is both demanding and accessible, Deauville has equipped itself with a new, innovative facility that will offer a rich and diversified range of cultural and event services from March 2021. A place for exhibitions, shows, encounters, experimentation and a living space open to the city, Les Franciscaines invites artists and visitors to develop their imagination. Les Franciscaines invite artists and visitors to develop their imagination. Offering a choice setting for the collections of the museum and the media library, Les Franciscaines invites different artistic forms to meet and nourish each other.
Faithful to its history, made up of cultural and religious diversity, crossroads and encounters, Deauville invites sharing and reflection, honouring the three religions of the Book: Judaism, Christianity and Islam. With the exhibition "On the Roads to Paradise", his ambition is to explore, alongside artists from every century and from every western and eastern region (Brueghel de Velours, Maurice Denis, Marc Chagall, Imran Qureshi, Mané-Katz…), the historical and artistic transcription of the founding texts of paradise, from the myth of Enki in Mesopotamia to the figuration of the Incarnation by Bill Viola. The aim is therefore to identify the influences, exchanges and interpenetration of iconographic codes from the 3rd millennium B.C. to the 21st century, under the multidisciplinary perspective of the members of the Scientific Committee (Delphine Horvilleur, Jean-François Colosimo, Jacqueline Chabbi, Thierry Grillet, Gilles Chazal, Claire Decomps, Annie Vernay-Nouri) surrounding the General Curator, Régis Debray, and Lynda Frenois, Scientific Curator and Director of the Musée des Franciscaines.
On the paths to paradise
The hypothesis of the exhibition is that of the historicity of paradise. On the Roads to Paradise shows the singularity of an imaginary world that is not identical from one era to another or from one religion to another and that depends intrinsically on the societies in which paradise is represented.
Step by step, the thematic tour of the exhibition takes us on the paths of the beyond of the three monotheistic religions, from oral traditions to the Founding Texts, from Creation to the Garden of Eden, from earthly paradise to the Promised Land and the messenger angels, the scientific committee composed of historians, iconographers, philosophers and writers wishes to invite you to a journey between collective imagination, sincere belief, art history and religious texts, with no other goal than to open your senses and glimpse an afterlife painted, dreamed, fantasized, written. Thus, the exhibition is composed of manuscripts, videos, paintings, graphic arts, objets d'art… as many mediums that can illustrate the diversity, richness, audacity, fragility of the thoughts and ambitions of artists of any century.
The exhibition will aim to draw the thread to our time, thus testifying to the strength and permanence, in the heart of secularized societies, of these representations of paradise.
Evoking some great poetically translated experiences such as Dante's Divine Comedy or the night journey of the Prophet, the art of Islamic gardens, or the ancient conceptions of Sheol, the exhibition provides an opportunity to discover works and documents, both historical and contemporary, thanks to exceptional loans.
This inaugural exhibition is a sensitive experience, with a programme that combines scientific truth and conviviality; where the visitor becomes in turn spectator and actor, thanks to an original scenography and the trust of renowned lenders including the Louvre Museum (an exceptional partner of the exhibition), the Musée d'Orsay, the Museum of Art and History of Judaism, the Bibliothèque nationale de France, the Aga Khan Museum in Toronto, the Musée national d'Art Moderne, the Carmignac Foundation, the Centre national des arts plastiques, the Beaux-Arts museums of Bordeaux, Nancy and Pau, the Badische Landersbibliothek in Karlsruhe.
L'exposition aura à cœur de tirer le fil jusqu'à notre temps, témoignant ainsi de la force et de la permanence, au cœur des sociétés sécularisées, de ces représentations du paradis.
Évoquant quelques grandes expériences traduites poétiquement comme La Divine Comédie de Dante ou le voyage nocturne du prophète, l'art des jardins islamiques, ou encore les conceptions antiques du séjour des morts, l'exposition donne l'occasion de découvrir des œuvres et des documents, historiques et contemporains grâce à des prêts exceptionnels.
Cette exposition inaugurale s'envisage comme une expérience sensible, au gré d'une programmation qui allie véracité scientifique et convivialité ; où le visiteur devient tour à tour spectateur et acteur, grâce une scénographie originale et à la confiance de prêteurs de renom parmi lesquels le Musée du Louvre (partenaire exceptionnel de l'exposition), le Musée d'Orsay, le Musée d'art et d'histoire du Judaïsme, la Bibliothèque nationale de France, l'Aga Khan Museum de Toronto, le Musée national d'Art Moderne, la Fondation Carmignac, le Centre national des arts plastiques, les musées des Beaux-Arts de Bordeaux, Nancy et Pau, la Badische Landersbibliothek de Karlsruhe…
Fidèle à son histoire, faite de diversités culturelles et cultuelles, de croisements et de rencontres, Deauville invite au partage et à la réflexion, mettant à l'honneur aux Franciscaines les trois religions du Livre : judaïsme, christianisme et islam.
Avec l'exposition « Sur les chemins du paradis », son ambition est de parcourir, aux côtés d'artistes de tout siècle et de toute région occidentale et orientale (Brueghel de Velours, Maurice Denis, Marc Chagall, Imran Qureshi, Mané-Katz…), la transcription historique et artistique des textes fondateurs du paradis, du mythe d'Enki en Mésopotamie à la figuration de l'Incarnation par Bill Viola.
Il s'agit donc de cerner les influences, les échanges, l'interpénétration de codes iconographiques du IIIe millénaire avant J.C au XXIe siècle, sous le regard pluridisciplinaire des membres du Comité scientifique (Delphine Horvilleur, Jean-François Colosimo, Jacqueline Chabbi, Thierry Grillet, Gilles Chazal, Claire Decomps, Annie Vernay-Nouri) entourant le commissaire général, Régis Debray, et Lynda Frenois, commissaire scientifique et directrice du musée des Franciscaines.
—————————————————————————-
General Commission
Régis Debray, Philosopher and writer, member of the Académie Goncourt
Scientific Commissioner
Lynda Frenois, Director of the Franciscan Women's Museum
Scientific Committee
Thierry Grillet, Director of Cultural Dissemination, Bibliothèque Nationale de France Jean-François Colosimo, Historian, theologian, director general of Éditions du Cerf Jacqueline Chabbi, Associate Historian of Arabic and Doctor of Letters, Honorary Professor of Universities Delphine Horvilleur, Rabbi Aurélie Clémente-Ruiz, Director of the Exhibition Department, Institut du Monde Arabe Valérie Vesque-Jeancard, Former Deputy Director General of RMN-GP Annie Madet-Vache, Assistant Curator at the Musée national de la Marine.
—————————————————————————-
Accès : Les Franciscaines
145 B, Avenue de la République, 14800 Deauville
Contact : contact@lesfranciscaines.fr
Accueil : +33 (0)2 61 52 29 20
---
—————————————————————————-
Catalogue officiel Franciscaines
"Sur les chemins du paradis"
Catalogue officiel de l'exposition inaugurale Sur les chemins du paradis au musée des Franciscaines de Deauville du 19 mai au 22 août 2021.
PHILIPPE AUGIER, JACQUELINE CHABBI, GILLES CHAZAL, JEAN-FRANÇOIS COLOSIMO, RÉGIS DEBRAY, CLAIRE DECOMPS, LYNDA FRENOIS, THIERRY GRILLET, DELPHINE HORVILLEUR, ANNIE VERNAY-NOURI.
couverture du catalogue  : Aki Lumi "The Garden no.20" 2014.
237 x 277 mm, 208 pages
Code EAN :  9782754111478
https://www.editions-hazan.fr/livre/sur-les-chemins-du-paradis-9782754111478
—————————————————————————-
•
•
•
•
•
---
2021/05/27

Reims « BLOOMING »_ Aki Lumi
Musée des Beaux-Arts de Reims « Hors les murs »
L'exposition d'Art au Domaine Pommery à Reims
Réouverture Primtemps 2021
BLOOMING
inaugure le nouvel espace d'exposition du Domaine,
le Cellier Pompadour
du 3 juin au 15 novembre 2021
Aki Lumi – The Garden No.4, 2009. Courtesy Galerie Françoise Paviot.
Une exposition unique qui célèbre le temps de la renaissance et de l'épanouissement de la nature et des hommes en faisant dialoguer artistes d'hier et d'aujourd'hui.
Consacré à la peinture, aux céramiques, au dessin et à la photographie figurative cet espace majestueux de type Eiffel de plus de 900 mètres carré, enrichi magnifiquement le domaine de 55 hectares.
Pour cette première exposition dans le « Cellier Pompadour », 61 artistes sont réunis sous
le commissariat de Nathalie Vranken,
Catherine Delot – Directeur du Musée des Beaux-Arts de Reims, Conservateur en chef du patrimoine – et
Fabrice Bousteau – Commissaire d'exposition et Directeur de la rédaction de BeauxArts magazine.
Liste des artistes :
Edmond ALLOUARD
Tandem BACHELOT & CARON
Emile BARAU, Philippe BAUDELOCQ
Adolphe BINET
Jacques-Emile BLANCHE
Celina BLUNDELL
Virginie BOUDSOCQ
Georges BOURGIN
Raymond BRASCASSAT
Sophie CALLE
Jean-Charles CAZIN
Jacques CHARRIER
Philippe COGNEE
Camille COROT
Mathilde de l'ECOTAIS
Etienne DINET
Lionel ESTEVE
Henri FANTIN-LATOUR
Jean Pierre FORMICA
Jean-François FOURTOU
Louis FRANÇAIS
Emile FRIANT
Bertrand GADENNE
Emile GALLE
Paul GAUGUIN
Stephan GLADIEU
Henri GUINIER
Claude HUILLOT
Paul JAMOT
Achille KOETSCHET
Bogdan KONOPKA
Olivier KOSTA-THEFAINE
Alexandre et Florentine LAMARCHE-OVIZE
Ernest LAURENT
Gaston LECREUX
Gustave LOISEAU
Aki LUMI
Hélène MARCOZ
André MARE
Henri MARTIN
Marie ORENSANZ
Louis PAVIOT
Raphaëlle PERIA
Laurent PERNOT
Lie-Louis PERRIN SALBREUX
Gerald PETIT
Pierre et Gilles
Adolphe PIOT
Philippe ROUSSEAU
Jean SADDON
Pierre SEINTURIER
Barthélémy TOGUO
Abel TRUCHET
Tursic & Mille
Keith TYSON
Simon VERELST
Antoine VOLLON
James WEBB
Stephen WILKS
•
____
À (re)découvrir dans les caves gallo-romaines
EXPERIENCE POMMERY #15, Introspection jusqu'au 31 août 2021.
Un retour sans nostalgie sur seize années de production.
DES MESURES SANITAIRES SONT MISES EN PLACE AFIN D'ASSURER LA SÉCURITÉ DES VISITEURS ET DU PERSONNEL :
Gel hydroalcoolique à disposition des visiteurs
Marquage au sol pour le respect des distances
Pose de plexiglas hygiaphone
____
Informations pratiques :
Réservation en ligne ou sur place www.champagnepommery.com
Le Domaine Pommery Reims est ouvert :
Du lundi au dimanche de 10h à 12h et de 14h à 18h (sous réserve)
L' exposition « Blooming »  est ouverte tous les jours à l'exception des lundis et mardis. Visites libres des expositions
N'hésitez pas à nous contacter pour plus d'informations sur les oeuvres présentées ou sur le Domaine Pommery.
____
Vranken-Pommery Monopole
5 place Général Gouraud
51100 Reims
Renseignements et réservation :
03 26 61 62 56
CONTACT PRESSE
Claudine Colin Communication
Elsa Sarfati
01 42 72 60 01
06 10 84 27 48
elsa@claudinecolin.com
Cyril Bruckler
01 42 72 60 01
06 07 09 67 19
cyril@claudinecolin.com
https://claudinecolin.hosting.augure.com/Augure_ClaudineColin/default.ashx?WCI=EmailViewer&id=752157bc-9768-48f8-acbf-5ecafddec14f
•
•
•
•
•
•
•
---
2019/11/02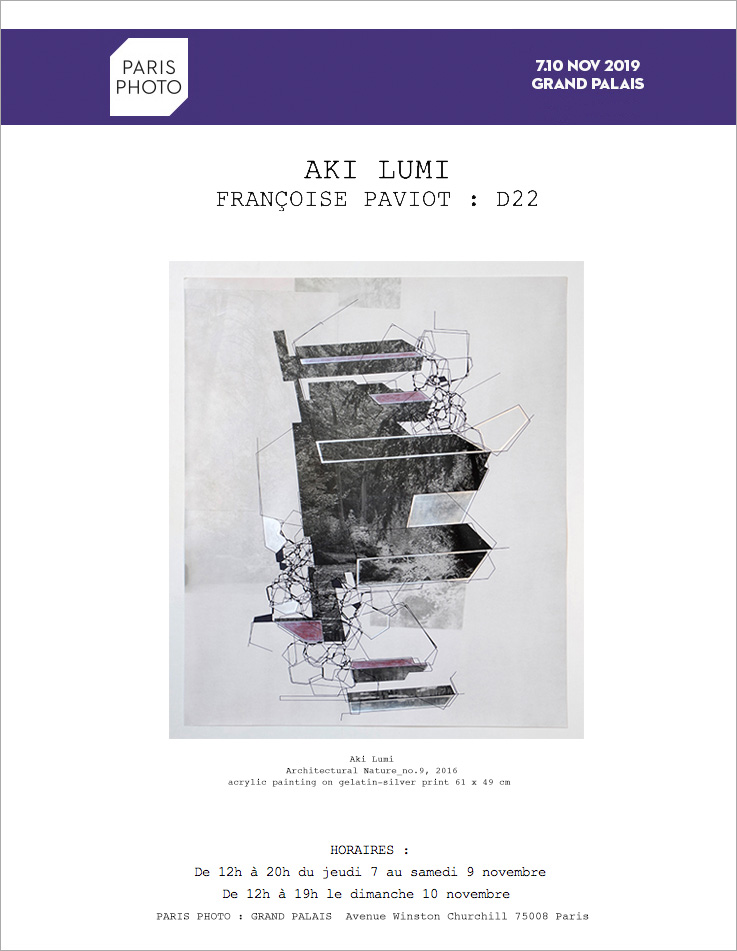 ……………..
PARIS PHOTO
7-10 NOV 2019
GRAND PALAIS
Aki Lumi
Galerie Françoise Paviot
– D22 –
http://paviotfoto.com/artistes/aki-lumi/
Aki Lumi

Architectural Nature_no.9, 2016

acrylic painting on gelatin-silver print

61 x 49 cm
https://akilumi.fr/en/works/architectural-nature/
PARIS PHOTO 
GRAND PALAIS 
Avenue Winston Churchill 75008 Paris
Galerie Françoise Paviot
57, rue Sainte Anne 75002 Paris France Téléphone : +33 (0)1 42 60 10 01
……………..
·
·
·
·
·
·
·
·
·
·
---
2019/10/13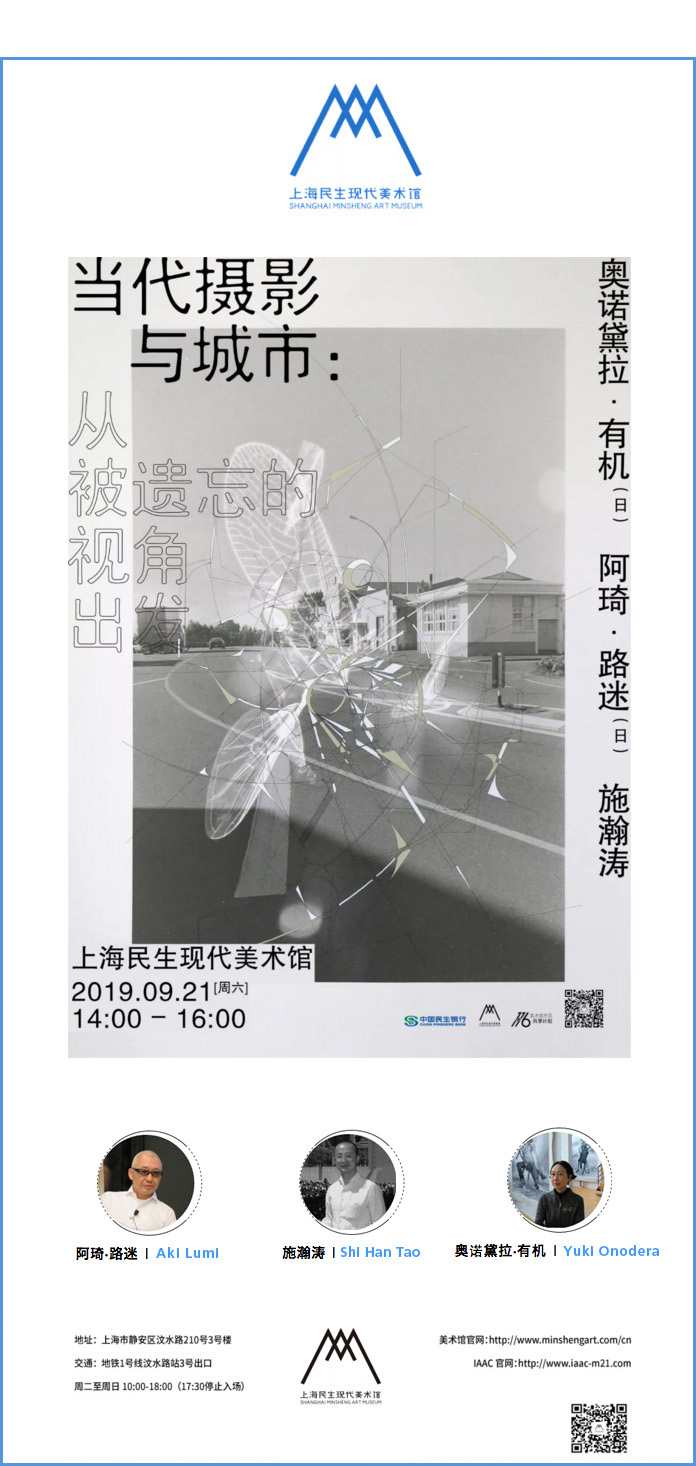 https://mp.weixin.qq.com/s/F3FNGt2V0o3GVk4zjWRaaQ
——————————
上海民生現代美術館
講演会/討論会
オノデラユキ、アキ・ルミ、シー・ハンタオ
『現代写真と都市、その身体性について』
9月12日 14:00~16:00
——————————
MCAM – Lectures / Talks
Aki Lumi / Yuki Onodera / Shi Han Tao
at  Min Sheng Contemporary Art Museum, Shanghai.
Sep 21 2019
14:00 -16:00
——————————
【民生讲座】
当代摄影与城市:从被遗忘的视角出发
上海民生现代美术馆  9月12日
[ 当代摄影与城市:从被遗忘的视角出发 ]
嘉宾:奥诺黛拉·有机(日)、阿琦·路迷(日)、施瀚涛
时间:9月21日(周六)  14:00-16:00
语言:日文/中文
地点:上海民生现代美术馆 多媒体互动室
报名方式:点击"阅读原文"预约报名
城市是欲望的产物,也是欲望的载体。人类的欲望是城市发展最重要的推动力,但同时也割裂了人与城市的关系,遮蔽了城市中更为丰富也更为重要的其他因素,甚至隔断了城市的历史性,让人们忘记它的源头、忘记了自己的位置,从而迷失了方向。
近年来,城市与艺术经常被放在一起讨论,然而二者之间有着非常复杂的关系,绝非凭借单一视角就能够阐述清楚。不过有一定可以肯定,艺术作为人类表现与交流的一个重要手段,绝对不是城市的装饰品,而是批判和发现城市的一种途径,能够在一定程度上揭示欲望背后城市的另一面,让人们重新找回被遗忘了的视角。
日本艺术家奥诺黛拉·有机关注城市与人之间的关系,通过大量的摄影作品来揭示个体在城市中的身份认同与生命状态。阿琦·路迷则通过摄影尝试探索城市与科学的关系,追溯城市的历史,探讨城市的本质。本次活动我们将以日本艺术家奥诺黛拉·有机与阿琦·路迷的艺术创作为出发点,来思考城市与艺术的关系,结合两位艺术家的创作思想以及其他一些艺术现象,重新发现被我们遗忘的一些观察视角,以求更好地理解艺术、认识城市并发现自己。
---
2019/04/29

festivart
RENDEZ-VOUS À SAINT-BRIAC
Parcours d'art contemporain 
Quatrième édition du 30 mai au 2 juin 2019
https://festivartsaintbriac.fr/2018/04/08/les-participants-2018/
© Aki Lumi "Architectural Nature_no.8" par Galerie Françoise PAVIOT
à Presbytère
https://akilumi.fr/en/works/architectural-nature/
https://akilumi.fr/fr/works/architectural-nature/
https://akilumi.fr/zh/works/architectural-nature/
https://akilumi.fr/ja/works/architectural-nature/
*
*
*
*
*
---
2019/04/23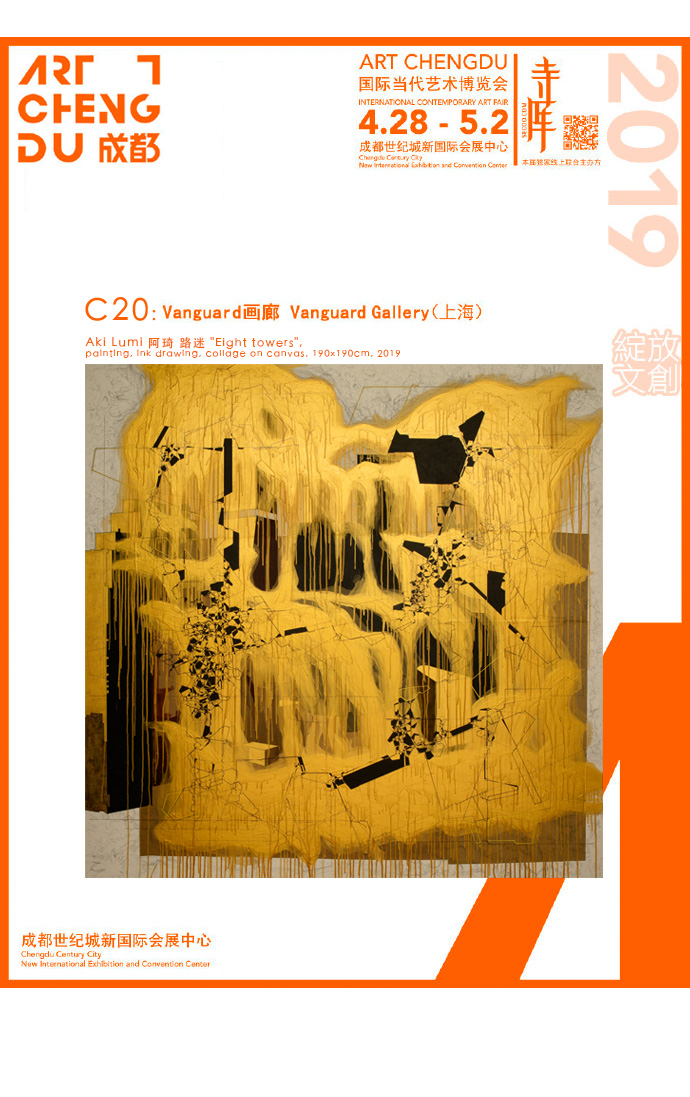 2019Art Chengdu艺术成都国际当代艺术博览会将于4月28日开幕
4.28 – 5.2
成都世纪城新国际会展中心
Vanguard Gallery : C20
Aki Lumi 阿琦 路迷 "Eight towers", painting, ink drawing, collage on canvas, 190x190cm, 2019
https://akilumi.fr/zh/works/fracto-graph/list/
https://akilumi.fr/en/works/fracto-graph/list/
https://akilumi.fr/fr/works/fracto-graph/list/
https://akilumi.fr/ja/works/fracto-graph/list/
*
*
*
*
*
*
***
---