PHOTO SHANGHAI 2015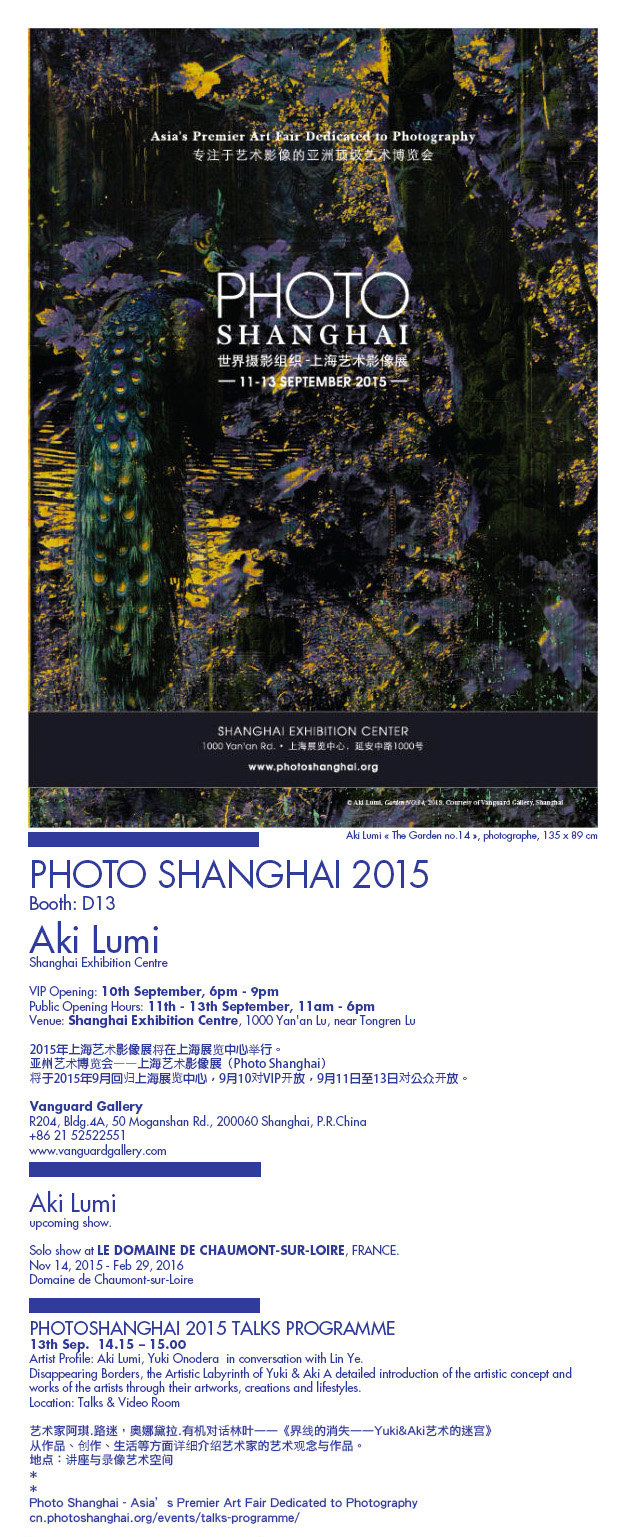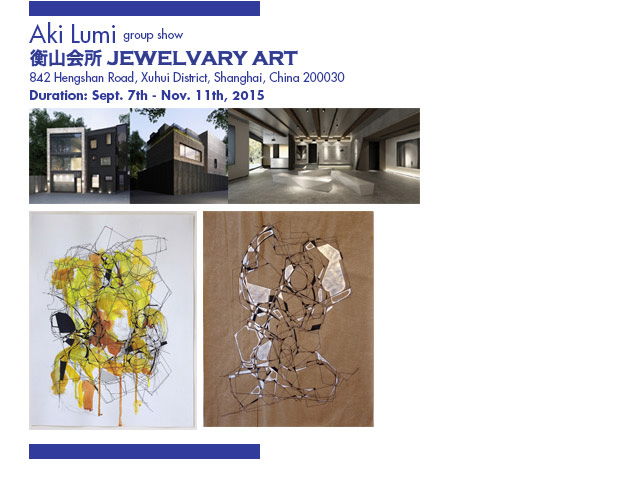 *
*
*
*
*
PHOTO SHANGHAI 2015
Booth: D13
Aki Lumi
Shanghai Exhibition Centre
VIP Opening: 10th September, 6pm – 9pm
Public Opening Hours: 11th – 13th September, 11am – 6pm
Venue: Shanghai Exhibition Centre, 1000 Yan'an Lu, near Tongren Lu
2015年上海艺术影像展将在上海展览中心举行。
亚州艺术博览会——上海艺术影像展(Photo Shanghai)
,将于2015年9月回归上海展览中心,9月10对VIP开放,9月11日至13日对公众开放。
Vanguard Gallery
R204, Bldg.4A, 50 Moganshan Rd., 200060 Shanghai, P.R.China
+86 21 52522551
—————————————————–
Aki Lumi
upcoming show.
Solo show at LE DOMAINE DE CHAUMONT-SUR-LOIRE, FRANCE.
Nov 14, 2015 – Feb 29, 2016
—————————————————–
PHOTOSHANGHAI 2015 TALKS PROGRAMME
13th Sep.  14.15 – 15.00
Artist Profile: Aki Lumi, Yuki Onodera  in conversation with Lin Ye.
Disappearing Borders, the Artistic Labyrinth of Yuki & Aki A detailed introduction of the artistic concept and
works of the artists through their artworks, creations and lifestyles.
Location: Talks & Video Room
艺术家阿琪.路迷,奥娜黛拉.有机对话林叶——《界线的消失——Yuki&Aki艺术的迷宫》
从作品、创作、生活等方面详细介绍艺术家的艺术观念与作品。
地点:讲座与录像艺术空间
*
*
*
Photo Shanghai – Asia's Premier Art Fair Dedicated to Photography
‎cn.photoshanghai.org/events/talks-programme/
—————————————————–
Aki Lumi group show
JEWELVARY ART
842 Hengshan Road, Xuhui District, Shanghai, China 200030
//akilumi.fr/en/works/fracto-graph/
Duration: Sept. 7th – Nov. 11th, 2015
---